Pipe Nipple & Hex Nipple Manufacturers – ASTM A105, ASTM A312, ASTM A106, ASTM A403, ASTM A182 F304, F316, F304L, F316L and A182 F5, F9, F11, F22, F91
Size: from 1/8″ NPS TO 6″ NPS, Thi, Thickness – SCH40/STD, SCH80/XS, SCH160/XXS, Thread: NPT, BSPT, BSPP, Type: Male
Types of Pipe Nipples – Barrel Nipple, Close Nipple, Hexagonal Nipple, Long Hex Nipple, Reducing Nipple, Hose Nipple, Welding Nipple, Seamless Pipe Nipple, Short Pipe Nipple, Hex Nipple, One Side Threaded Nipple, Both Sides Threaded Nipple, Both Sides Plain End Pipe Nipple
A nipple is a short length of pipe with male pipe threads at both ends for connecting other fittings. You may also see them referred to as "barrel nipples". Generally there is a short distance of unthreaded pipe between the two threaded ends. When there is no bare pipe between the two connecting ends, the part may be called a "close nipple" or a "running nipple". Metallica is a well known manufacturer and supplier of pipe nipples and hex nipples for the clients from oil and gas, petrochemicals, railway, construction and other industries. Our main products include socket weld fittings, threaded fittings and pipe nipples in size range of 1/4″ to 4″ (6mm-100mm). The most common materials for manufacturing pipe nipples and hex nipples are carbon steels, stainless steels, alloy steels and non-ferrous metals certified to ASTM, ASME and DIN standards. In nickel alloys we are manufacturing pipe nipples in various grades such as Alloy 200, 201, 400, K500, 600, 625, 800H/HT, 825, X-750, C276, Hastelloy B & C22.
Forged Socket Weld & Threaded Pipe Fittings Manufacturing Standards
ASTM A182 – ASME SA182 – Standard Specification for Wrought Austenitic Stainless Steel Piping Fittings
ASME B16.9 – Factory-Made Wrought Buttwelding Fittings
ASME B16.11 – Socket Welding and Threaded Forged Fittings
MSS SP-43 – Wrought and Fabricated Butt-Welding Fittings for Low Pressure, Corrosion Resistant Applications
MSS SP-95 – Swage(d) Nipples and Bull Plugs
BS3799 – Specification for Steel pipe fittings, screwed and Socket-welding for the petroleum industry
MSS SP-83 – Socket Welding and Threaded Steel Pipe Unions
Socket weld and threaded fittings are generally used for small size pipes and piping systems (generally below 4 inches in diameter for Class 3000, and below 2 inches for fittings in class 6000 and 9000). Forged pipe fittings are manufactured by forging, followed by heat treatment and machining solid steel as per the dimensional standards. For bigger size piping systems buttweld pipe fittings produced as per ASME B16.9 are used.
Production Range of Pipe Nipples and Hex Nipples
| | |
| --- | --- |
| Product | Pipe Nipples and Hex Nipples |
| Connection | Threaded, Plain End |
| Size | 1/8″ NPS TO 6″ NPS |
| Pressure Rating | SCH 10S, SCH 40, SCH80/XS, SCH160, XXS |
| Process method | Seamless, Forged, CNC Machined |
| Length | Custom Length |
| Certification | EN 10204 3.1 |
Thread: NPT, BSPT, BSPP, Type: Male
Pipe Nipples & Hex Nipples Materials & Grades
| | |
| --- | --- |
| Carbon Steel | ASTM A106, ASTM A333 Gr. 6, ASTM A105/N, ASTM A350LF2, LF3, LF6 |
| Duplex | 2205 (F51/60), 2507 (F53) |
| Chrome Moly | SA182, F1, F5, F5a, F9, F9l, F11, F12, F22 |
| Stainless Steel | 304/L/H, 316/L/H, 310, 317L, 321/H, 347/H, 410, 416, 420, 17-4, 440, Alloy 20 |
| Nickel Alloys | 200, 201, 400, K500, 600, 625, 800H/HT, 825, X-750, C276, Hastelloy B & C22 |
Dimensions & Sizes for Pipe Nipples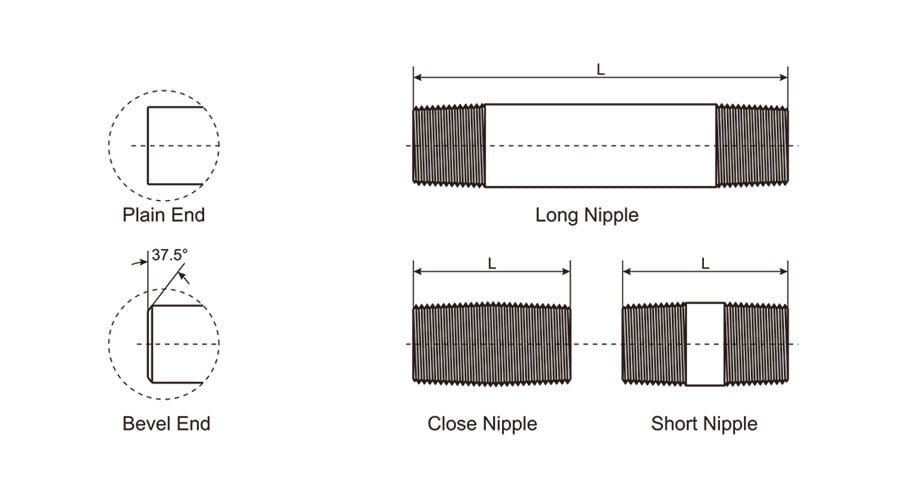 Nom.Pipe Size
L
Plain End Weight(kg/m)
Close Nipple
Short Nipple
Long Nipple
Sch40/STD
Sch80/XS
Sch160
XXS
1/8"
3/4"
1-1/2"
2"~12"
0.37
0.47
1/4"
7/8"
1-1/2"
2"~12"
0.63
0.8
3/8"
1"
1-1/2"
2"~12"
0.84
1.1
1/2"
1-1/8"
1-1/2"
2"~12"
1.27
1.62
1.95
2.55
3/4"
1-3/8"
2"
2-1/2"~12"
1.69
2.2
2.9
3.64
1"
1-1/2"
2"
2-1/2"~12"
2.5
3.24
4.24
5.45
1-1/4"
1-5/8"
2-1/2"
3"~12"
3.39
4.47
5.61
7.77
1-1/2"
1-3/4"
2-1/2"
3"~12"
4.05
5.41
7.25
9.55
2
2"
2-1/2"
3"~12"
5.44
7.48
11.11
13.44
2-1/2"
2-1/2"
3"
3-1/2"~12"
8.63
11.41
14.92
20.39
3"
2-5/8"
3"
3-1/2"~12"
11.29
15.27
21.35
27.68
3-1/2"
2-3/4"
4"
4-1/2"~12"
13.57
18.64
4"
2-7/8"
4"
4-1/2"~12"
16.08
22.32
33.54
41.03
5"
3"
4-1/2"
5"~12"
21.77
30.97
49.12
57.43
6"
3-1/8"
4-1/2"
5"~12"
28.26
42.56
67.57
79.22
Dimensions in Millimeters
Thickness in accordance with ASME B1.20.1
Weld bevel in accordance with ASME B16.25
Weight in accordance with ASME B36.10M
Dimensions & Sizes for Hex Nipples
Nominal Size
A
W
E
b
C
F
 
 
 
 
 
DN
Inch
(Min.)
(Min.)
(Min.)
3000
6000
(Min.)
(Min.)
6
1/8″
11
26
10
5
2
6
–
8
1/4″
15
36
15
8
6
6
–
8×6
1/4″×1/8″
15
31
15
5
2
6
10
10
3/8″
18
40
16
11
8
8
–
10×8
3/8″×1/4″
18
39
16
8
6
8
15
15
1/2″
22
48
20
14
11
8
–
15×10
1/2″×3/8″
22
44
20
11
8
8
16
15×8
1/2″×1/4″
22
43
20
8
6
8
15
20
3/4″
27
52
21
19
13
10
–
20×15
3/4″×1/2″
27
50
21
14
11
9
20
20×10
3/4″×3/8″
27
46
21
11
8
9
16
25
1″
35
60
25
24
17
10
–
25×20
1″×3/4″
35
56
25
19
13
10
21
25×15
1″×1/2″
35
55
25
14
11
10
20
40
1-1/2″
50
68
26
38
30
16
–
40×25
1-1/2″×1″
50
67
26
24
17
16
25
40×20
1-1/2″×3/4″
50
63
26
19
13
16
21
40×15
1-1/2″×1/2″
50
62
26
14
11
16
20
50
2″
62
71
27
49
39
17
–
50×40
2″×1-1/2″
62
70
27
38
30
17
26
50×25
2″×1″
62
70
27
24
17
18
25
50×20
2″×3/4″
62
65
27
19
13
17
21
50×15
2″×1/2″
62
65
27
14
11
18
20