Stainless Steel Socket Weld Fitting Manufacturers, Suppliers, Stockist – ANSI B16.11, A182, F304, F316, F304L, F316L, and A182 F5, F9, F11, F22, F91
Size: from 1/4″ to 4″ (6mm-100mm), Pressure: 2000LBS, 3000LBS, 6000LBS, 9000LBS
Stainless Steel Socket Weld Pipe Fittings – 90° Elbow, 45° Elbow, Tee, Cross, Full Coupling, Half Coupling, Pipe Cap, Union, Reducer Insert, Boss, Branch Outlet, 90° Elbow Outlet, 45° Lateral Tee, Lateral Outlet, Branch Outlet Butt Weld, 90° Elbow, Outlet Butt Weld, Lateral Outlet Butt Weld, Nipple Branch Outlet Butt Weld
Metallica is a well known manufacturer and supplier of stainless steel socket weld pipe fitting for the clients from oil and gas, petrochemicals, railway, construction and other industries. We manufacture different size and shapes of stainless steel socket weld fittings by closed die forging.
Forged Stainless Steel Socket Weld & Threaded Pipe Fittings Manufacturing Standards
ASTM A182 – ASME SA182 – Standard Specification for Wrought Austenitic Stainless Steel Piping Fittings
ASME B16.9 – Factory-Made Wrought Buttwelding Fittings
ASME B16.11 – Socket Welding and Threaded Forged Fittings
MSS SP-43 – Wrought and Fabricated Butt-Welding Fittings for Low Pressure, Corrosion Resistant Applications
MSS SP-95 – Swage(d) Nipples and Bull Plugs
BS3799 – Specification for Steel pipe fittings, screwed and Socket-welding for the petroleum industry
Forged Pipe Fittings (Socket Weld and Threaded) are made in accordance to ASME B16.11, MSS-SP-79\ 83\ 95\97 and BS3799 standards, and are used to connect nominal bore schedule pipes and pipelines. A socket weld pipe fitting, abbreviated as SWF, is one where the pipe is inserted into a recessed area of the fitting. To make a socket weld fitting, the pipe is inserted into the pipe before it is welded. In order to prevent damage to the pipe and fitting, the pipe is then backed out a minimum of 1/16" to allow for thermal expansion of the pipe during the welding procedure. If this clearance is not made, the weld can crack due to the pipe expanding against the fitting. Socket weld flange with pipe SW Fittings are used for piping that has a nominal pipe size (NPS) of 3 inches and below. The applications range from chemical, petrochemical, power generation and OEM manufacturing industry as well other applications where vibration, high pressure or extremely corrosive conditions exist.
Stainless steel socket weld fittings are generally used for small size pipes and piping systems (generally below 4 inches in diameter for Class 3000, and below 2 inches for fittings in class 6000 and 9000). Stainless steel socket weld pipe fittings are manufactured by forging, followed by heat treatment and machining solid steel as per ASME B16.11 and other dimensional standards. For bigger size piping systems buttweld pipe fittings produced as per ASME B16.9 are used.
Production Range of Stainless Steel Socket Weld Fitting
1. Forged Fittings Type: Elbow, cross, street elbow, tee, coupling, half coupling, cap, plug, bushing, union, outlet, sage nipple, bull plug, reducer insert, pipe nipple etc.
2. Connection: Socket Welded(male or female), Threaded
3. Size Range: 1/8″ – 4″(6mm – 100mm)
4. Pressure Rating:
Threaded Forged Pipe Fittings: 2000LBS, 3000LBS, 6000LBS
Socket welding Wog:  3000, 6000, 9000 LBS
5. Specifications:
a) Standard: ASME B 16.11, MSS-SP-79\ 83\ 95\97
b) Material: Stainless steel: ASTM A182 F304/ F304/ F316/F316L/F317/ 317L/ F321/ F310/ 347/ 904
c) Size of raw material: Dia. 19-85mm round bar.
6. Technology: Forged
7. Packing: Wooden cases or wooden pallet or as per customers requirement
8. Delivery Time: 25 days after order conformed
9. Payment: By T/T or L/C
10. Applications range: petroleum, chemical, machinery, electric power, shipbuilding, papermaking, construction etc
Forged pipe fittings are available in both socket weld and threaded ends.
Stainless Steel Socket Weld Union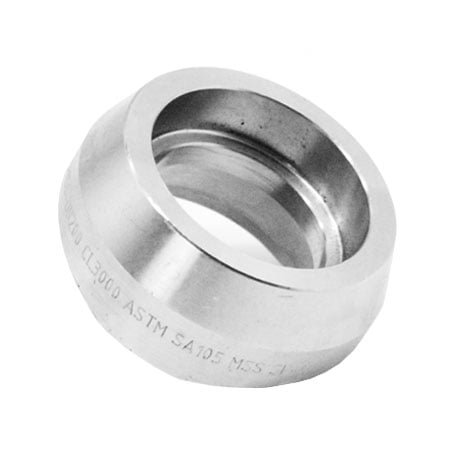 Stainless Steel Socket Weld Outlets – Olets
Manufacturing Process for Stainless Steel Socket Weld Forged Fittings
Forged fittings are the fittings made by forged steel. The process of manufacturing forged steel fittings include: cutting and heating billets, put pressure on heated billets under dies into desired shape, trimming and shot blasting. Then machine forged blank fittings for net shape and dimensions. According to the applications of forged steel fittings, they are available in threaded and socket weld end connections.
The main raw material for producing forged pipe fittings is round bar stock or billets.
Most of the forged steel fittings are not large, so closed die forging is normally adapted to produce forged steel fittings. Compared to the open die forging, the close die forging can achieve more complex geometries, very much close to the dimensions of the finished component.
Close die forging can produce forged fittings in all materials such as carbon steel, duplex, stainless steel or nickel alloys.
Equipments Used in Stainless Steel Socket Weld Pipe Fittings
The equipment used to produce pipe fittings varies with respect to the forging processes which can be carried out:
• The method of applying the force.
• The size.
The different types of forging equipment include:
• Hammers
• Presses
• Upsetters
• Forging Rolls
• Ring Rollers
• Swaging Machines
Types of Stainless Steel Socket Welded & Threaded Forged Steel Pipe Fittings
| | |
| --- | --- |
| ELBOW | 45 ELBOW |
| | 90 ELBOW |
| | STREET ELBOW |
| TEE | EQUAL TEE |
| | REDUCING TEE |
| UNION | UNION CONICAL FF |
| | UNION CONE FF |
| PLUG | HEX PLUG |
| | SQUARE PLUG |
| NIPPLE | HEX NIPPLE |
| | REDUCING NIPPLE |
| | STRAIGHT  NIPPLE |
| | REDUCING OUTLET  NIPPLE |
| COUPLING | COUPLING |
| | HALF COUPLING |
| CAPS | ROUND CAPS |
| | HEX CAP |
| OUTLET | BUTT-WELDING OUTLET |
| | SOCKET WELDING OUTLET |
| | THREAD OUTLET |
Chemical Composition of Stainless Steel Socket Weld Pipe Fittings
Chemical Composition %
Grade
C
Si
Mn
P
S
Ni
Cr
Mo
N
201    (1Cr17Mn6Ni5N)
≤0.15
≤1.0
≤5.5
≤0.06
≤0.03
3.5-5.5
16.0-18.0
—
≤0.25
202    (1Cr18Mn8Ni5N)
≤0.15
≤0.07
≤7.5
≤0.06
≤0.03
4.0-6.0
17.0-19.0
—
≤0.25
304    0Cr18Ni9)
≤0.08
≤0.07
≤2.0
≤0.04
≤0.03
8.0-11.0
18.0-20.0
—
—
304L  (00Cr18Ni10)
≤0.03
≤0.07
≤2.0
≤0.04
≤0.03
8.0-11.0
18.0-20.0
—
—
316    (0Cr17Ni12Mo2)
≤0.08
≤0.07
≤2.0
≤0.04
≤0.03
11.0-14.0
16.0-18.0
2.0-3.0
—
316L   (0Cr17Ni14Mo2)
≤0.03
≤0.07
≤2.0
≤0.04
≤0.03
11.0-14.0
16.0-18.0
2.0-3.0
—
321    
≤0.08
≤1.0
≤2.0
≤0.04
≤0.03
9.0-12.0
17.0-19.0
Ti≥5xC
409
≤0.08
≤1.0
≤1.0
≤0.04
≤0.03
≤0.5
10.5-11.7
Ti6xC%≤0.70
409L
≤0.03
≤1.0
≤1.0
≤0.04
≤0.03
0.5
10.5-11.7
Ti8xC%≤0.70
430
≤0.12
≤1.0
≤1.0
≤0.04
≤0.03
16.0-18.0
Advantages of Stainless Steel Socket Weld Pipe Fittings
Light weight
Flexibility
Toughness
Chemically Inert
Resistance to Abrasion
Smooth surface
Environmental stress crack resistance
Corrosion resistance
Frost & rodent resistance
Hygienic safety
Easy & quick installation
Disadvantages of Stainless Steel Socket Weld Pipe Fittings
There are also some shortfalls in using socket weld fittings. If the welder does not leave a gap between the pipe and the shoulder of the socket, there is a risk that the weld will fail either during the welding process or under high temperatures. This gap can cause solids to accumulate which can cause corrosion issues. If the piping is used for multiple process fluids, this accumulation may contaminate the additional process streams.
Difference Between Socket Weld Pipe Fittings and Threaded Pipe Fittings
Socket weld fittings are used for applications where strong and long-lasting connections are required.  Socket weld fittings are very reliable but are time-consuming to install in a piping system (due to the heavy workload caused by welding operations on small parts). Threaded fittings are used for less-critical piping systems, such as water distribution, fire protection, and cooling, or for low-pressure installations not subject to vibration, elongation and bending forces. Threaded pipe fittings are not suited for fluids with constantly changing temperatures, as sudden changes may crack the connection.
Socket weld fittings are connected to pipes by fillet welds, whereas threaded fittings are screwed onto the pipe or vice-versa.