Production Range of Sweep Outlet
| | |
| --- | --- |
| Product | Sweep Outlet |
| Connection | Butt Weld |
| Size | 1/2″ NPS TO 24″ NPS |
| Pressure Rating | 3000LB, 6000LB, 9000LB (SCH80/XS, SCH160, XXS) |
| Process method | Forged, CNC Machined |
| Standards: | ASME B31.3, MSS SP 97 |
| Certification | EN 10204 3.1 |
Thread: NPT, NPSC, BSPT, BSPP, Type: Male and Female
The MSS SP-97 Standard Practice covers essential dimensions, finish, tolerances, testing, marking, material, and minimum strength requirements for 90 degree integrally reinforced forged branch outlet fittings of buttwelding, socket welding, and threaded types. Fittings manufactured to this Standard Practice are designed to make a fully reinforced branch connection in accordance with applicable piping code requirements, when attached, at an opening in a run pipe by means of a full penetration weld.
ASME B31.3 contains requirements for piping typically found in petroleum refineries; chemical, pharmaceutical, textile, paper, semiconductor, and cryogenic plants; and related processing plants and terminals. It covers materials and components, design, fabrication, assembly, erection, examination, inspection, and testing of piping.
Sweep Outlet Dimensions – MSS SP-97, ASME B31.3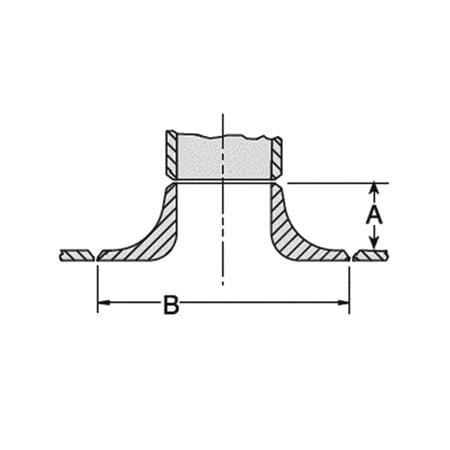 Run Size
Outlet Size
Dimensions
Inches
*A
B
6 to 36
1 1/4
1 1/4
4
6 to 36
1 1/2
1 3/4
5 1/2
6 to 36
2
1 1/2
5 1/2
6 to 36
3
1 21/32
7
6 to 36
4
2  1/32
8 3/4
10 to 36
6
2 11/16
13
12 to 36
8
3
15
16 to 36
10
3 1/8
18 1/2
16 to 36
12
3  5/16
20 1/2
20 to 36
14
3 5/8
24
24 to 36
16
3 3/4
28
24 to 36
18
4 5/8
31
24 to 36
20
5 1/8
33
30 to 36
24
5 5/8
38
A sweep outlet is a type of  integrally reinforced branch connection used to facilitate radiography, one or many non-destructive tests (NDT) used to inspect welds.
This type of NDT uses Gamma or X-rays to penetrate material. The rays are then passed through film on the opposite side .the exposed film is examined as a negative and displays the internal features The thickness of the weld is shown through lighter or darker areas on the film.
MSS SP-97 Forged Branch Outlet Fittings – Socket Welding, Threaded, Buttwelding Ends – ASTM A105, A182 F304, F316, F304L, F316L, and A182 F5, F9, F11, F22, F91
Size: from 1/2″ NPS TO 24″ NPS, Pressure Rating: 3000LB, 6000LB (SCH80/XS,SCH160), Thread: NPT, NPSC, BSPT, BSPP, Type: Male and Female
Types of Outlets – Butt Weld Outlet, Socket Weld Outlet, Threaded Outlet, Elbow Outlet, Lateral Outlet, Nipple Outlet, Sweep Outlet, Flanged Nipple Outlet
Metallica is a well known manufacturer and supplier of forged branch outlet fittings for the clients from oil and gas, petrochemicals, railway, construction and other industries. Branch outlets are popularly known as Olets, which is a registered trademark of Bonney Forge. Fittings may be made to special dimensions, size, shape, tolerances, or of other wrought material by agreement between the manufacturer and the purchaser. We can produce forged branch outlet fittings in size range of 1/2″ to 24″. The most common and materials include ASTM A105, ASTM A182 F304, F316, F304L, F316L, and A182 F5/F9/F11/F22/F91. In nickel alloys we manufacturing forged branch outlets in various grades such as Alloy 200, 201, 400, K500, 600, 625, 800H/HT, 825, X-750, C276, Hastelloy B & C22.
Forged Socket Weld & Threaded Pipe Fittings Manufacturing Standards
ASTM A182 – ASME SA182 – Standard Specification for Wrought Austenitic Stainless Steel Piping Fittings
ASME B16.9 – Factory-Made Wrought Buttwelding Fittings
ASME B16.11 – Socket Welding and Threaded Forged Fittings
MSS SP-43 – Wrought and Fabricated Butt-Welding Fittings for Low Pressure, Corrosion Resistant Applications
MSS SP-95 – Swage(d) Nipples and Bull Plugs
BS3799 – Specification for Steel pipe fittings, screwed and Socket-welding for the petroleum industry
MSS SP-83 – Socket Welding and Threaded Steel Pipe Unions
MSS SP-97 – Integrally Reinforced Forged Branch Outlet Fittings –Socket Welding, Threaded, and Buttwelding Ends
Socket weld and threaded fittings are generally used for small size pipes and piping systems (generally below 4 inches in diameter for Class 3000, and below 2 inches for fittings in class 6000 and 9000). Forged pipe fittings are manufactured by forging, followed by heat treatment and machining solid steel as per the dimensional standards. For bigger size piping systems buttweld pipe fittings produced as per ASME B16.9 are used.
Socket Weld & Threaded Union Materials & Grades
Carbon Steel: ASTM/ASME A/SA 105, ASTM/ASME A 350 LF2, LF3
Alloy Steel: ASTM/ASME A/SA 182 F1, F5, F9, F11, F12, F22, F91
Stainless Steel: ASTM A 182 F304, F304L, F304H, F316, F316L, F316Ti, F310, F321, F321H, F317, F347, F347H, F904L
Duplex & Super Duplex Steel: ASTM A182 F44, F45, F51, F53, F55, F60
Copper Nickel Alloys: UNS C 70600 (Cu-Ni 90/10), C 71500 (Cu-Ni 70/30), UNS C10100, 10200, 10300, 10800, 12000, 12200
Nickel Alloys: ASTM SB564, SB160, SB472, SB162 Nickel 200 (UNS N02200), Nickel 201 (UNS N02201), Monel 400 (UNS N04400), Monel 500 (UNS N05500), Inconel 800 (UNS N08800), Inconel 825 (UNS N08825), Inconel 600 (UNS N06600), Inconel 625 (UNS N06625), Inconel 601 (UNS N06601), Hastelloy C 276 (UNS N10276), Alloy 20 (UNS N08020)