Bolt Manufacturers, Suppliers, Stockist – Hex Bolts, Heavy Hex Bolts, U Bolts, Anchor Bolts, Stud Bolts in Stainless Steel, Nickel Alloys, Titanium and Special Alloys
We are a leading professional manufacturer and supplier of various types of bolts such as Hex Bolts, Heavy Hex Bolts, U Bolts, Anchor Bolts, and Stud Bolts. Metallica also produces non-standard inch and metric size bolts according to customer drawings and samples. We supply DIN, EN, ISO, ANSI, ASME, ASTM, BS, JIS, UNI and more metric and inch standard fasteners, non-standard and customized fasteners.
Bolts are manufactured from a variety of materials. Our manufacturing range for bolts include bolts produced from low carbon steel, middle carbon steel, alloy steel, brass, copper, stainless steel, Duplex, Super Duplex, Titanium, Alloy 600, Alloy 400, Alloy 600, Alloy 625, Alloy 825, and Alloy C276. To meet various requirements for corrosion resistant or strength, we can offer metal bolt and nuts with further treatment such as heating, black oxide, zinc coating, hot dipper galvanizing, black zinc coating, brass coating, nickel and chrome plating, etc.
We are manufacturing metal bolts by following a stringent quality control program and standards which assure good surface and close dimensional tolerances. We are a global industry leading provider of carbon steel, alloy steel and stainless steel hex bolts and stud bolts and have obtained ASME Quality and ISO 9001:2015 Certifications.
All our bolting products are supplied with 3.1 specific test certificates, according to EN 10204. Certification according to 3.2 can be agreed at the time of ordering. Metallica makes it easy for you to source top quality nuts and bolts at the lowest prices.
Hex bolt is the most popular industry standard fastener, widely used for wood, steel fastenings in highway, docks, bridges & buildings projects. Hex bolt is a bolt with a hexagonal head shape and generally used in construction works of buildings, railways, bridges, factories, etc. The difference between hex bolt and heavy hex bolt is that heavy hex bolt has larger bolt head and head bearing area than hex bolt.

DIN931, DIN933, DIN558, DIN960, DIN961
ANSI/ASME B18.2.1, ASTM A307
ISO 4018, ISO8676, UNI5737, UNI5739

Various Types of Bolts: U Bolts, Eye Bolt, Stud Bolts, Hexagon Bolt, Structure Bolt, Hex Socket Bolt, Hex Flange Bolt, Round Head Bolt, High Strength Bolt, Square Neck Bolt, CSK Head Bolt, T Headed Bolt, Railway Bolt, Lock Bolts, Bent Bolt, Tire Bolt
Manufacturing Fasteners – Nut, Bolts, Screws & Washers
Fasteners, nuts, bolts and screws are generally manufactured by two processes namely cold forging and hot forging.
The cold forging process is generally used for manufacturing small size fasteners while hot forging process is used for large size bolts and nuts. The cold forging process starts with large steel wire rods, which are uncoiled and cut to length. This is followed by pressure forging, cold extrusion and reducing, or a combination of these procedures, followed by heat treating to improve strength and surface treating to improve durability.
Many other fasteners are also produced by the cold forming or forging process especially for producing large quantities, as it reduces the cost of production. The choice of the suitable forming machine depends on the size of the fastener and on the degree of forming. The greater the degree of forming, the more forming stages are required.
Screws are usually produced by cold forming process where in we usually receive the wire coiled on rolls.
Heat treatment process is used after the fastener production to increase the strength or control the mechanical properties of fasteners.
Nuts are usually produced with the cold or hot forming procedure as well. The choice of one or the other procedure depends on the one hand on the size and on the other on the required quantities.
The hot forging or forming production method is used mainly to manufacture large diameters starting with approx. M27, and longer pieces starting from approx. 300 mm. In addition, parts are possible that cannot be produced using cold forming because of the very small volumes, or because of a very high degree of forming.
Washers are produced by punching or forming process. The manufacturing process starts with making of punching die as per the required internal and external diameter of washer.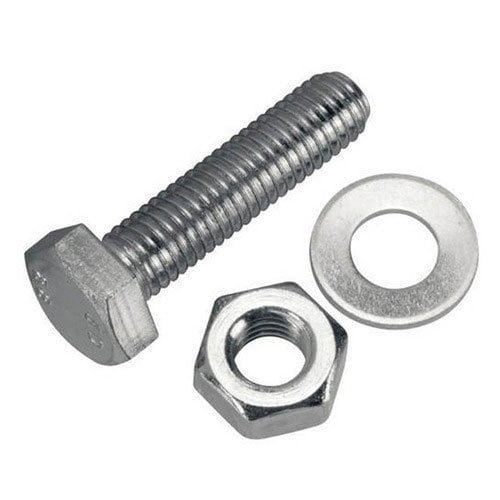 Anchor Bolt with Nut and Washer
Bolt Specifications, Stock & Production Range
| | |
| --- | --- |
| Product | Bolts |
| Grade | A36, B7, B16, L7, 304/304L, 316/316L, EN8, A307B, A193/A320 B8, A193/A320 B8M, UNS S31803, UNS S32205, UNS S32750, UNS S32760, Alloy 400, Alloy 600, Alloy 625, Alloy C276, Alloy 800, Alloy 825 |
| Materials | M6 to M64 |
| Type | U Bolt, Anchor Bolt, Hex Bolt, Studs |
| Standards | DIN, EN, ISO, ANSI, ASME, ASTM, BS, JIS, UNI |
| Surface | Black Oxide, Zinc Coating, Hot Dip Galvanizing, Black Zinc Coating, Brass Coating, Nickel and Chrome Plating |
| Certification | EN 10204 3.1 |
| Prices | info@metallicametals.com | +918928722715 |
Email Us on info@metallicametals.com for best prices on various types of Carbon Steel Bolts, Stainless Steel Bolts, Duplex Bolts, Super Duplex Bolts, Nickel Bolts, Inconel Bolts, Monel Bolts, Incoloy Bolts, Hastelloy Bolts, and Titanium Bolts.
ASTM A193 Stud bolt, grades B5, B6, B7, B7M, B8 (304 SS), B8M (316 SS). B8T, B8C, B16 etc.  A320 L7, L7M,L43 etc
ASTM A194 Heavy hex nut, grade 2H, 2HM, 4, 7, 8, 8M, 8T, 8C etc
A453 series: 660A/B/C/D, 651, 662, 665, 668 etc,  High temperature alloy: 310/310S, A286, 800HT etc
Duplex & Super Duplex: F51, F53, F55, F61, S32750, S32760, S31803, S32550 etc
Nickel Alloy: Alloy C22, C276, 400, K500, 600, 601, 625, 718, 825 etc
A325 and A490 steel structure bolt set, A194 series heavy hex nut.
The finish treatment include black oxided, phosphated, Zinc plated, Nickel plated, Hot dip galvanized, Cadmium Plated, PTFE/Teflon etc.
In addition, we also supply the whole series crusher parts and engineering machinery parts, like liner bolt, wedge bolt etc. blade bolts etc.
Stainless Steel Bolts
Stainless Steel 304/304L Bolts
Stainless Steel 304H Bolts
Stainless Steel 310/310S Bolts
Stainless Steel 316/316L Bolts
Stainless Steel 316Ti Bolts
Stainless Steel 317/317L Bolts
Stainless Steel 321/321H Bolts
Stainless Steel 347 Bolts
Stainless Steel 347H Bolts
Stainless Steel 410 Bolts
Stainless Steel 446 Bolts
Stainless Steel 904L Bolts
Alloy Steel Bolts
Alloy Steel B6 Bolts
Alloy Steel B7 Bolts
Alloy Steel B7M Bolts
Alloy Steel B16 Bolts
Alloy Steel 2 Bolts
Alloy Steel 2HM Bolts
Alloy Steel 2H Bolts
Alloy Steel GR 6 Bolts
Alloy Steel GR 7 Bolts
Alloy Steel GR 7M Bolts
Hastelloy Bolts
Hastelloy C22 Bolts
Hastelloy C276 Bolts
Hastelloy B2 Bolts
Hastelloy B3 Bolts
Hastelloy X Bolts
Nickel Bolts
Nickel 200 Bolts
Nickel 201 Bolts
Special Alloy Bolts
Alloy 20 Bolts
SMO 254 Bolts
AISI 4130 Bolts
Aluminium Bolts
Alloy A286 Bolts
17-4ph Bolts
Aluminium Bolts
Duplex Steel Bolts
Duplex Steel S31803 / S32205 Bolts
Super Duplex Steel S32750/ S32760 Bolts
Titanium Bolts
Titanium Gr 2 Bolts
Titanium Gr 5 Bolts
Inconel Bolts
Inconel 600 Bolts
Inconel 601 Bolts
Inconel 625 Bolts
Inconel 718 Bolts
Incoloy Bolts
Incoloy 800 / 800H / 800HT Bolts
Incoloy 825 Bolts
Incoloy 925 Bolts
Incoloy 330/ SS 330/ Ra 330 Bolts
Monel Bolts
Monel 400 Bolts
Monel K500 Bolts
Cupro Nickel Bolts
Cupro Nickel 90 / 10 Bolts
Cupro Nickel 70 / 30 Bolts
Copper Bolts
Brass Bolts
Carbon Steel Bolts
Low Carbon Steel Bolts
Middle Carbon Steel Bolts
High Carbon Bolts
High Strength Bolts
Testing & Inspection of Various Type of Bolts
Testing (Destructive, Non Destructive)
| | |
| --- | --- |
| Positive Material Identification – PMI Testing | Hydrostatic Test |
| Chemical Analysis – Spectro Analysis | Hydrogen-Induced Cracking (HIC) Test |
| Mechanical Testing Such as Tensile, Elongation, Reduction of Area | Sulfide Stress Corrosion Cracking (SSC), NACE TM 0177 |
| Micro Test | Radiography Test |
| Macro Test | Dye Penetrant Test (DP Test) |
| Hardness Test | Ultra Sonic Test (UT) |
| Pitting Resistance Test | Eddy Current Testing |
| Intergranular Corrosion (IGC) Test | Impact Test |
| Flaring Test | Bend Test |
| Flattening Test | |
Inspection
Our internal inspection reports would be provided for all the goods before shipment.
Buyers or their associates are most welcome to visit us for personal inspect
We regularly have inspections ongoing at our premises from internationally acclaimed Inspection Agencies such as TUV, BVIS, SGS, Llyods, DNV etc.
Prices for Metal Bolts
Prices for U bolts, Studs, Hex bolts and Anchor bolts products are directly co related to prices of the raw materials such as iron ore, metal scrap, chromium, nickel and various other alloying elements. The production cost of heat resistant stainless steel and nickel alloy bolts is high as they contain high amount of nickel and chromium. Meanwhile, mild steel material is among the lowest cost steel available, followed by carbon steel, 400 series stainless steels, aluminium, alloy steel, and 300 series stainless steel. Special alloys such as titanium, Inconel, Monel and Hastelloy cost very high as the nickel, chromium and moly content is very high.
For special and discounted prices for various types of bolt products, please feel free to contact us through email, phone or whatsapp.
We are also regularly publishing our price list for various steel products on our blog.
Documents Provided – on Sale of U Bolts, Hex Bolts and Stud Bolts
| | |
| --- | --- |
| Certificate of Origin | Raw Material Test Reports |
| Commercial Invoice | Heat Treatment Charts |
| Packing List | Quality Assurance Plan (QAP) |
| Fumigation Certificates | NABL approved Laboratory Test Reports |
| Letter of Guarantee | Material Test Certificates |
| ROHS Certificate | Certificate of Compliance/Conformity |
Price Terms for U Boltsm Hex Bolts & Stud Bolts
We can offer any of the following price basis depending on your requirement:
Ex-works
FOR Site in India
FOB Nhava Sheva
CFR, CIF, CPT your destination port
Door to Door Delivery Duty Paid as well as Duty Unpaid
Delivery Time of Bolts (Hex, U, Stud, Anchor Bolts)
If the items are available in stock, we take 2 days from the date of receipt of advance payment to clear the shipment and send it to port.
And in-case the items are not available in stock, the time taken for manufacturing depends on the size, quantity and grade.
However we can claim the fact that we can compete with anyone in India on Delivery time and most of the time our production time is the least.
We have tied up with strong logistic partners in India which can undertake any type of shipping activities and make sure that there is no delay in shipment.
Marking & Packing of Metal Bolts
All our products will have complete marking details which are co-related to the test certificates we supply.
In case of orders for cut piece of Pipes, Sheets or Round Bars, the marking is transferred from the product from which it is cut. In such cases we provide Letter confirming the marking transfer and picture of the product from which it is cut.
All goods are packed in wooden cases or pallets.
Suppliers of Hex Bolts and Stud Bolts in India
Mumbai, Delhi, Bangalore, Hyderabad, Ahmedabad, Chennai, Kolkata, Surat, Pune, Jaipur, Visakhapatnam, Kanpur, Nagpur, Lucknow, Thane, Bhopal, Indore, Pimpri Chinchwad, Patna, Vadodara, Ghaziabad, Ludhiana, Agra, Nashik, Faridabad, Meerut, Rajkot, Kalyan-Dombivli, Vasai-Virar, Varanasi, Srinagar, Aurangabad, Dhanbad, Amritsar, Navi Mumbai, Allahabad, Howrah, Ranchi, Gwalior, Jabalpur, Coimbatore, Vijayawada, Jodhpur, Madurai, Raipur, Chandigarh, Guntur, Guwahati, Solapur, Hubli–Dharwad, Mysore, Tiruchirappalli, Bareilly, Moradabad, Tiruppur, Gurgaon, Aligarh, Jalandhar, Bhubaneswar, Salem, Mira-Bhayandar, Warangal, Jalgaon, Kota, Bhiwandi, Saharanpur, Gorakhpur, Bikaner, Amravati, Noida, Jamshedpur, Bhilai, Cuttack, Firozabad, Kochi, Nellore, Bhavnagar, Dehradun, Durgapur, Asansol, Rourkela, Nanded, Kolhapur, Ajmer, Akola, Gulbarga, Jamnagar, Ujjain, Loni, Siliguri, Jhansi, Ulhasnagar, Jammu, Sangli-Miraj & Kupwad, Mangalore, Erode, Belgaum, Ambattur, Tirunelveli, Malegaon, Gaya, Thiruvananthapuram, Udaipur, Kakinada, Davanagere, Kozhikode, Maheshtala, Rajpur, Sonarpur, Rajahmundry, Bokaro, South Dumdum, Bellary, Patiala, Gopalpur, Agartala, Bhagalpur, Muzaffarnagar, Bhatpara, Panihati, Latur, Dhule, Tirupati, Rohtak, Sagar, Korba, Bhilwara, Berhampur, Muzaffarpur, Ahmednagar, Mathura, Kollam, Avadi, Kadapa, Kamarhati, Sambalpur, Bilaspur, Shahjahanpur, Satara, Bijapur, Kurnool, Rampur, Shimoga, Chandrapur, Junagadh, Thrissur, Alwar, Bardhaman, Kulti, Nizamabad, Parbhani, Tumkur, Khammam, Ozhukarai, Bihar Sharif, Panipat, Darbhanga, Bally, Aizawl, Dewas, Ichalkaranji, Karnal, Bathinda, Jalna, Eluru, Barasat, Kirari Suleman Nagar, Purnia, Satna, Mau, Sonipat, Farrukhabad, Durg, Imphal, Ratlam, Hapur, Arrah, Anantapur, Karimnagar, Etawah, Ambarnath, North Dumdum, Bharatpur, Begusarai, New Delhi, Gandhidham, Baranagar, Tiruvottiyur, Pondicherry, Sikar, Thoothukudi, Rewa, Mirzapur, Raichur, Pali, Ramagundam, Haridwar, Vijayanagaram, Tenali, Nagercoil, Sri Ganganagar, Karawal Nagar, Mango, Thanjavur, Bulandshahr, Uluberia, Katni, Sambhal, Singrauli, Nadiad, Secunderabad, Naihati, Yamunanagar, Bidhannagar, Pallavaram, Bidar, Munger, Panchkula, Burhanpur, Raurkela Industrial Township, Kharagpur, Dindigul, Gandhinagar, Hospet, Nangloi Jat, Malda, Ongole, Deoghar, Chapra, Haldia, Khandwa, Nandyal, Morena, Amroha, Anand, Bhind, Bhalswa Jahangir Pur, Madhyamgram, Bhiwani, Berhampore, Ambala, Morbi, Fatehpur, Raebareli, Mahaboobnagar, Chittoor, Bhusawal, Orai, Bahraich, Vellore, Mehsana, Raiganj, Sirsa, Danapur, Serampore, Sultan Pur Majra, Guna, Jaunpur, Panvel, Shivpuri, Surendranagar Dudhrej, Unnao, Chinsurah, Alappuzha, Kottayam, Machilipatnam, Shimla. Adoni, Udupi, Katihar, Proddatur, Saharsa, Hindupur, Sasaram, Hajipur, Bhimavaram, Kumbakonam, Dehri, Madanapalle, Siwan, Bettiah, Guntakal, Srikakulam, Motihari, Dharmavaram, Gudivada, Phagwara, Narasaraopet, Suryapet, Miryalaguda, Tadipatri, Karaikudi, Kishanganj, Jamalpur, Ballia, Kavali, Tadepalligudem, Amaravati, Buxar, Jehanabad, Aurangabad, Gangtok
Exporters of Hex Bolts, Stud Bolts and U Bolts
America: Antigua and Barbuda, Argentina, Aruba, Bahamas, Barbados, Belize, Bermuda, Bolivia, Brazil, Canada, Cayman Islands, Chile, Colombia, Costa Rica, Cuba, Dominica, Dominican Republic, Ecuador, El Salvador, Grenada, Guatemala, Guyana, Haiti, Honduras, Jamaica, Mexico, Nicaragua, Panama, Paraguay, Peru, Puerto Rico, Suriname, Trinidad and Tobago, United States, Uruguay, Venezuela
Europe – Albania, Andorra, Austria, Belarus, Belgium, Bosnia and Herzegovina, Bulgaria, Croatia, Cyprus, Czech Republic, Denmark, Estonia, Euro area, Faroe Islands, Finland, France, Germany, Greece, Hungary, Iceland, Ireland, Isle of Man, Italy, Kosovo, Latvia, Liechtenstein, Lithuania, Luxembourg, Macedonia, Malta, Moldova, Monaco, Montenegro, Netherlands, Norway, Poland, Portugal, Romania, Russia, Serbia, Slovakia, Slovenia, Spain, Sweden, Switzerland, Turkey, Ukraine, United Kingdom
Africa – Algeria, Angola, Benin, Botswana, Burkina Faso, Burundi, Cameroon, Cape Verde, Central African Republic, Chad, Comoros, Congo, Djibouti, Egypt, Equatorial Guinea, Eritrea, Ethiopia, Gabon, Gambia, Ghana, Guinea, Guinea Bissau, Ivory Coast, Kenya, Lesotho, Liberia, Libya, Madagascar, Malawi, Mali, Mauritania, Mauritius, Morocco, Mozambique, Namibia, Niger, Nigeria, Republic of the Congo, Rwanda, Sao Tome and Principe, Senegal, Seychelles, Sierra Leone, Somalia, South Africa, South Sudan, Sudan, Swaziland, Tanzania, Togo, Tunisia, Uganda, Zambia, Zimbabwe
Asia – Afghanistan, Armenia, Azerbaijan, Bahrain, Bangladesh, Bhutan, Brunei, Cambodia, China, East Timor, Georgia, Hong Kong, Indonesia, Iran, Iraq, Israel, Japan, Jordan, Kazakhstan, Kuwait, Kyrgyzstan, Laos, Lebanon, Macao, Malaysia, Maldives, Mongolia, Myanmar, Nepal, Oman, Palestine, Philippines, Qatar, Saudi Arabia, Singapore, South Korea, Sri Lanka, Syria, Taiwan, Tajikistan, Thailand, Turkmenistan, United Arab Emirates, Uzbekistan, Vietnam, Yemen
Australia – Australia, Fiji, Kiribati, New Caledonia, New Zealand, Papua New Guinea, Samoa, Solomon Islands, Tonga, Vanuatu