Metallica offers high quality of  ASTM A192/ASME SA192 boiler and superheater seamless steel tube to customers across the globe and in India. In addition to supplying ASTM A192 steel tubes, Metallica also offers fabrication services that include cutting, bending, shearing, saw cutting and welding for all of kinds of seamless steel pipes and tubes. Our primary objective is to ensure that our customers receive ASTM A192/ASME SA192 tubes at competitive prices, together with excellent service.
We stock and supply ASME SA 192 seamless tubes manufactured by Jindal, MSL and ISMT, the top three seamless tube manufacturers in India. We stock and supply ASTM A192 seamless tube for liquid and petroleum applications in size range of  1⁄2 in. to 7 in. [12.7 to 177.8 mm] in thickness range of 0.085 to 1.000 in. [2.2 to 25.4 mm]
Production Range for ASTM A192 Carbon Steel Seamless Tubes
| | |
| --- | --- |
| Product | ASTM A192 Seamless Carbon Steel Tubes |
| Specification | ASTM A192 |
| Type | Seamless |
| Size | 1⁄2 in. to 7 in. [12.7 to 177.8 mm] |
| Production Type | Hot finished and cold finished |
| Thickness | 0.085 to 1.000 in. [2.2 to 25.4 mm] |
| Length | Single random length/ Double random length or as customer's actual request max length is 27m |
| Surface Quality | Oil-dip, Varnish, Passivation, Phosphating, Shot Blasting. Both ends of each crate will indicate the order no., heat no., dimensions, weight and bundles. |
| Test Certificates | Material Test Certificates (MTC) as per EN 10204 3.1 and EN 10204 3.2 |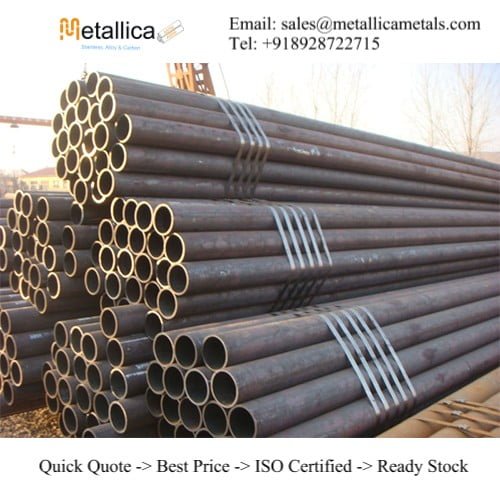 One of the Largest Seamless Tube Dealers in India!
If you are looking to purchase carbon steel seamless tubes, please feel free to contact us on sales@metallicametals.com
Related Key Words: boiler steel pipes, ASTM A192, ASME SA192,ASME SA 192 / ASTM A192 boiler pipes, A192 pipes, A192 carbon steel tube, ASTM A192 seamless tubing, ASTM A192 carbon steel pipe, SA192 SEAMLESS PIPE, ASTM A192 cold drawn seamless steel tubes, ASTM A192 pipes and tubing, carbon steel tube, Seamless steel tube, steel tube
A192 Seamless Tubes Manufacturers & Suppliers in India
As one of the biggest supplier of A192 seamless steel tubes in India, Metallica carries inventory of over 15,000 tons in its warehouses in Mumbai, Maharashtra India. We sell our ASTM A192 seamless tube products throughout India, and to international clients. We can supply our ASTM A192 seamless steel tube products not only in industry-standard lengths and diameters, but also in custom length and diameters. Our range of carbon steel A192 seamless tubes encompasses size range of  1⁄2 in. to 7 in. [12.7 to 177.8 mm]. Tubes of other sizes are also available, but these tubes are to comply with all other requirements of this standard. Mechanical performance requirements are not applicable to pipes with an inner diameter of less than 1/8 in. (3.2 mm) or a thickness of less than 0.015 in. (0.4 mm).
Specification: ASTM A192/ASME SA192 Standard Specification for Seamless Carbon Steel Boiler Tubes for High-Pressure Service.
Mill test certificates will be issued according to EN10204.3.
ASTM A192 belongs to the carbon seamless tubes, which is specially designed for high, middle, low pressure purpose in seamless carbon steel boilers and as super heater tubes.
ASTM A192 High-Pressure Carbon Boiler Tube Can be used in low and medium pressure boiler for the transportation of fluids, for example steam tube, big smoke tube, small smoke tube, generating tube,heat-exchange, steam, condensers and similar heat transfer apparatus.
Chemical Composition of ASTM A192 Carbon Steel Superheater Tubes
Chemical Components (%)
C
Mn
Si
P
S
0.06-0.18
0.27-0.63
0.25 max
0.035 max
0.035 max
Mechanical Properties of ASTM A192 Carbon Steel Superheater Tubes
| | | | | |
| --- | --- | --- | --- | --- |
| Tensile Strength (Mpa) | Yield Strength (Mpa) | Elongation (%) | Hardness, HB, WT≥5.1mm | Hardness, HRB, WT<5.1mm |
| 325 min | 180 min | 35 min | 137 max | 77 max |