A flange is an external or internal ridge, or rim (lip), for strength, as the flange of an iron beam such as an I-beam or a T-beam; or for attachment to another object, as the flange on the end of a pipe, steam cylinder, etc., or for a flange of a rail car or tram wheel. Thus flanged wheels are wheels with a flange on one side to keep the wheels from running off the rails. The term "flange" is also used for a kind of tool used to form flanges.  The type of flange to be used for a piping application depends, mainly, on the required strength for the flanged joint. Flanges are used, alternatively to welded connections, to facilitate maintenance operations – Pipes with flanges can be assembled and disassembled easily. The flange is the second most used joining method after welding. A flanged joint is composed of three separate and independent although interrelated components; the flanges, the gaskets, and the bolting; which are assembled by yet another influence, the fitter.
A reducing flange consists of a flange with one specific diameter having different bore and smaller diameter. It s used to change the diameters in piping system. Metallica provides the best qualitative product of ANSI/ASME B16.5 Reducing Flange available in various grades, materials, size and specifications. It involves the materials such as stainless steel, carbon steel, duplex steel and alloy steel of varied classes like 150LBS, 300LBS, 600LBS, 900LBS, 150LBS.
Reducing Flange is reduced bore flange to facilitate connections with other flange smaller than the reducing flange. Often referred as Reducer Flange. Reducing Flange can be fabricated using a reducing spool with concentric or eccentric reducer & desired flange at each end OR it could be a single flange with internal reduced bore to connect different sized fittings on either sides. Reducing Flanges need to be described by bigger Inlet size & smaller Outlet size. These Flanges can be either forged or can be directly machined from heat treated plates. Plate forming is preferable for smaller sized Reducing Flanges.
| | |
| --- | --- |
| Alloy Steel Flanges | ASTM/ASME SA/A182 F1, F5, F9, F11, F22, F91 |
| Stainless Steel Flanges | ASTM/ASME A182 F304, A182 F304L, A182 F304H, A182 F316, A182 F316L, A182 F316H, A182 F317, A182 F317L, A182 F321, A182 F321H, A182 F347, A182 F51, A182 F53 |
| Duplex and Super Duplex Flanges | ASTM A 182 F51/ UNS S31803, F53/UNS S32750, F55/UNS S32760 |
| Most Common Grade Carbon Steel Flange | ASTM/ASME SA/A105, 105N |
| Low Temperature Carbon Steel Flanges | ASTM/ASME SA/A350 LF1, LF2, LF3 |
| High Yield Carbon Steel Flanges | ASTM/ASME SA/A694 F42, F52, F60, F65, F70 |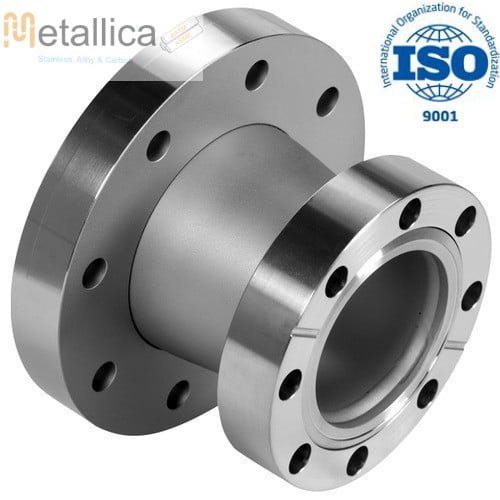 One of the Largest Reducing Flanges Dealers in India!
Buy High Quality Reducing Flanges at Factory Prices!
Low Price Guaranteed

!

We Will Quote for Reducing Flanges & Pipe Fittings in 2 Hours with Mill Test Certificates

!
If you are looking to purchase

reducing flanges/reducer flanges

, please feel free to contact us on sales@metallicametals.com. Top Quality Flanges at Low Price! Fast Delivery! 100% Refund!
Monel :
Grade: Monel 400, Monel K500, Monel R-405
Nickel :
Grade: Nickel 200, Nickel 201
Inconel :
Grade: Inconel 600, Inconel 601, Inconel 625, Inconel 718
Incoloy :
Grade: Incoloy 800, Inconel 800H, 800HT
Hastalloy :
Grade: Hastalloy B2, Hastalloy B3, Hastalloy C22, Hastalloy C276, Hastalloy X
Titanium :
Grade: Gr1, Gr2, Gr3, Gr5, Gr7, Gr11
Uses of Reducing Flange:
Helps in connecting pipe to pipe.
These flanges are little easier to bolt up than non-reducing flanges
Offers perfect solution when you need to connect improper size flanges
It delivers the easiest and simplest way for connecting two different sized flanges.
Advantages of Reducing Flange:
An ideal application for fitting different size objects
It is an economical way to mate pipes
International Standards
| Design | According to EN Type | According to DIN |
| --- | --- | --- |
| Weld Neck Flange | Type 11 | DIN 2627 – DIN 2638 |
| Blind Flange | Type 05 | DIN 2527 |
| Threaded Flange | Type 12 | DIN 2558, DIN 2565 – DIN 2569 |
| Flat Flange | Type 01 | DIN 2573, DIN 2576 |
| Lapped Flange | Type 02 & Type 04 | DIN 2641, DIN 2642, DIN 2655, DIN 2656 |
Similar to ASME flanges, EN1092-1 steel and stainless flanges, have several different versions of raised or none raised faces. According to the European form the seals are indicated by different form:
| Form: types of Contact Faces | DIN EN 1092-1 |
| --- | --- |
| Without Raised Face | Form A |
| Raised Face (Rz = 160 Mechanical Turned) | Form B1 |
| Raised Face ( Rz = 40 Mechanical Turned) | Form B1 |
| Raised Face (Rz = 16 Mechanical Turned) | Form B2 |
| Tongue According to DIN2512 | Form C |
| Groove According to DIN 2512 | Form D |
| Male According to DIN 2513 | Form E |
| Female According to DIN 2513 | Form F |
| Female According to DIN 2514 | Form G |
| Male According to DIN 2514 | Form H |