Inconel Coil, Inconel Strip and Inconel Foil Manufacturer, Supplier, Dealer – Inconel Alloy Coil, Inconel Alloy Strip, Inconel Alloy Foil, ASTM B443, B168 Inconel Coil
| | | | |
| --- | --- | --- | --- |
| Inconel Strip Suppliers | Inconel Coil Stockist | Inconel Boat | Inconel Strip |
| Inconel Foil Manufacturer | Inconel Self-Coiled Foil | Inconel Foil | Inconel Cerpentile Coil |
| Inconel Alloy Strip | Inconel Ribbon | Inconel Coil Dealer | Inconel Foil, Strip Supplier |
| ASTM B443 Inconel Coil | Inconel Crucibles | Inconel Alloy Coil | Inconel Foil Distributors |
| Inconel Slitting Coils | SB443 Inconel Coil | Inconel Coils | Inconel Strip Suppliers |
| Inconel Foil Dealers | ASME SB168 Inconel Foil | Inconel Coil Suppliers | Inconel Coil Distributors |
Standard specification of Inconel Coil, Inconel Strip, Inconel Foil are ASTM B168 and B443.
All Inconel Coil/Strip/Foil offered here are in line with high quality and competitive price. We're a leading Inconel Coil, Inconel Strip, Inconel Foil manufacturer and distributor in India. Please rest assured to wholesale quality products at stock price from our factory.
We specialize in Inconel strip and foil by continuous and precision rolling with tight tolerance best to 0.01 mm for finished thickness. Strip is up to 300 mm wide and can be slit to custom size, exhibiting trouble-free edges  quality, without any burrs and cracks. Our well annealed Inconel strips and coils can withstand deep-drawing and bending, which suits to precision component manufacturing for many different application and industries. We are also capable of providing either annealed product or tempered product to your exact specification.
Our mill is capable of rolling material from 0.100" down to .001" thickness. We are also capable of providing either annealed product or tempered product to your exact specification.
Metallica is one of the biggest Inconel Coil/Strip/Foil supplier and stockist, with over 250 customers in India and overseas. We are bulk producers, suppliers and exporters of Inconel Coil/Strip/Foil from factories in India and overseas (USA, Japan, Korea, Europe); and are able to give you the best price and quality just in time.
At Metallica Metals, we believe in selling in volume and increasing our customer base across the globe, enabling us to work on low margins. We have an extensive trader network across India and the Middle East, who buy from us on a regular basis. In addition to traders, we have many EPC contractors, companies and end users in various industries as our customers for Inconel Coil/Strip/Foil.
Inconel Alloy Coil, Strip and Foil Manufacturers and Suppliers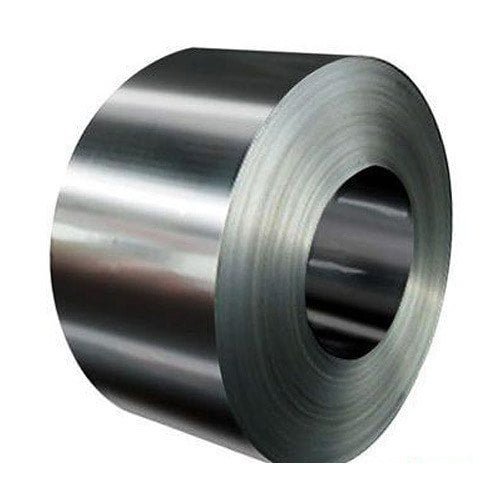 Inconel Coil, Strip and Foil Dealers, Stockist
Inconel Alloy Coil, Strip, Foil Stock & Supply Range
| | |
| --- | --- |
| Product | Inconel Alloys |
| Equivalents | Inconel 600, Inconel 601, Inconel 625, Inconel 718 |
| Items | Coil, Strip, Foil |
| Size | Thickness 0.02 – 0.5 mm; Width up to 650 mm; Coiled, spooled or cut in length |
| Pipe Type | Seamless, Welded, ERW, Fabricated, Custom Size Pipes |
| Specifications | ASTM, ASME, DIN, GOST, JIS |
| Certification | EN 10204 3.1 |
| Standard | ASTM B168 / ASME SB168, ASTM B443 / ASME SB443 |
About Inconel Alloys
Inconel alloys or superalloys are nickel-based alloys that exhibit traits such as high resistance to corrosion, oxidation, carburization, pitting, crevice, corrosion cracking, and high temperature strength. Often, Inconel is referred to as "Inco".
Inconel is a family of austenitic nickel-chromium-based superalloys. Inconel alloys are oxidation-corrosion-resistant materials well suited for service in extreme environments subjected to pressure and heat. When heated, Inconel forms a thick, stable, passivating oxide layer protecting the surface from further attack. Inconel retains strength over a wide temperature range, attractive for high temperature applications where aluminum and steel would succumb to creep as a result of thermally induced crystal vacancies. Inconel's high temperature strength is developed by solid solution strengthening or precipitation hardening, depending on the alloy.
Properties of Inconel Alloys Coil, Strip, Foil
Good resistance to acids, such as sulfuric, phosphoric, nitric, and hydrochloric
Almost completely free from chloride induced stress corrosion cracking
Excellent mechanical properties at both extremely low and extremely high temperatures
Outstanding resistance to pitting, crevice corrosion and inter crystalline corrosion
High resistance to oxidation at elevated temperatures
Applications of Inconel Alloys Coil, Strip, Foil
Inconel Alloys have a very high melting point (1,390°C-1,425°C) which provides resistance to corrosion and oxidation and performs extremely good at high temperatures. As a result of this, it is used for various high temperature applications in the below industries:
Aerospace
Power generation
Nuclear reactors
Gas turbines
Pressure vessels
Chemical Composition of Inconel Alloys Coil, Strip, Foil
| | |
| --- | --- |
| Grade | Inconel 600 (%) |
| Ni | 72.0 min |
| Fe | 6.0 – 10.0 |
| C | 0.15 max |
| Mn | 1.0 max |
| Si | 0.5 max |
| Cu | 0.5 max |
| Cr | 14.0 – 17.0 |
| S | 0.015 max |
Inconel 601 (%)
Ni
58.0 – 63.0
Fe
Balance
C
0.10 max
Mn
1.0 max
Si
0.5 max
Cu
1.0 max
Cr
21.0 – 25.0
S
0.015 max
Al
1.0 – 1.7
| | |
| --- | --- |
| Grade | Inconel 625 (%) |
| Ni | 58.0 min |
| Fe | 5.0 max |
| C | 0.10 max |
| Mn | 0.50 max |
| Si | 0.50 max |
| Cr2 | 20.0-23.0 |
| Mo | 8.0-10.0 |
| Co | 1.0 max |
| Al | 0.40 max |
| Ti | 0.40 max |
| Nb + Ta | 3.15–4.15 |
| P | 0.015 max |
| S | 0.015 max |
Inconel 718 (%)
%
Min.
Max.
Ni
50
55
Cr
17
21
Fe
balance
Mo
2.8
3.3
Nb
4.75
5.5
Co
1
C
0.08
Mn
0.35
Si
0.35
S
0.01
Cu
0.3
Al
0.2
0.8
Ti
0.7
Testing & Inspection of Inconel Alloy Coil, Strip, Foil
Testing (Destructive, Non Destructive)
| | |
| --- | --- |
| Positive Material Identification – PMI Testing | Hydrostatic Test |
| Chemical Analysis – Spectro Analysis | Hydrogen-Induced Cracking (HIC) Test |
| Mechanical Testing Such as Tensile, Elongation, Reduction of Area | Sulfide Stress Corrosion Cracking (SSC), NACE TM 0177 |
| Micro Test | Radiography Test |
| Macro Test | Dye Penetrant Test (DP Test) |
| Hardness Test | Ultra Sonic Test (UT) |
| Pitting Resistance Test | Eddy Current Testing |
| Intergranular Corrosion (IGC) Test | Impact Test |
| Flaring Test | Bend Test |
| Flattening Test | |
Inspection
Our internal inspection reports would be provided for all the goods before shipment.
Buyers or their associates are most welcome to visit us for personal inspect
We regularly have inspections ongoing at our premises from internationally acclaimed Inspection Agencies such as TUV, BVIS, SGS, Llyods, DNV etc.
Prices for Inconel Alloy Coil, Strip, Foil
Prices for Inconel Alloy Coil, Strip, Foil are directly co related to prices of the raw materials such as iron ore, metal scrap, chromium, nickel and various other alloying elements. The production cost of heat resistant stainless steel and nickel alloy plates is high as they contain high amount of nickel and chromium. Meanwhile, mild steel material is among the lowest cost steel available, followed by carbon steel, 400 series stainless steels, aluminium, alloy steel, and 300 series stainless steel. Special alloys such as titanium, Inconel, Monel and Hastelloy cost very high as the nickel, chromium and moly content is very high.
For special and discounted prices for various types of Inconel Alloy Coil, Strip, Foil, please feel free to contact us through email, phone or whatsapp.
We are also regularly publishing our price list for various steel products on our blog.
Documents Provided at the time of Domestic Sales or Export of Inconel Alloys Coil, Strip, Foil
| | |
| --- | --- |
| Certificate of Origin | Raw Material Test Reports |
| Commercial Invoice | Heat Treatment Charts |
| Packing List | Quality Assurance Plan (QAP) |
| Fumigation Certificates | NABL approved Laboratory Test Reports |
| Letter of Guarantee | Material Test Certificates |
| ROHS Certificate | Certificate of Compliance/Conformity |
Price Terms for Inconel Alloy Coil, Strip, Foil
We can offer any of the following price basis depending on your requirement:
Ex-works
FOR Site in India
FOB Nhava Sheva
CFR, CIF, CPT your destination port
Door to Door Delivery Duty Paid as well as Duty Unpaid
Delivery Time of Inconel Alloys Coil, Strip, Foil
If the items are available in stock, we take 2 days from the date of receipt of advance payment to clear the shipment and send it to port.
And in-case the items are not available in stock, the time taken for manufacturing depends on the size, quantity and grade.
However we can claim the fact that we can compete with anyone in India on Delivery time and most of the time our production time is the least.
We have tied up with strong logistic partners in India which can undertake any type of shipping activities and make sure that there is no delay in shipment.
Marking & Packing of Inconel Alloy Coil, Strip, Foil
All our products will have complete marking details which are co-related to the test certificates we supply.
In case of orders for cut piece of Pipes, Sheets or Round Bars, the marking is transferred from the product from which it is cut. In such cases we provide Letter confirming the marking transfer and picture of the product from which it is cut.
All goods are packed in wooden cases or pallets.
Suppliers of Inconel Alloy Coil, Strip, Foil in India
Mumbai, Delhi, Bangalore, Hyderabad, Ahmedabad, Chennai, Kolkata, Surat, Pune, Jaipur, Visakhapatnam, Kanpur, Nagpur, Lucknow, Thane, Bhopal, Indore, Pimpri Chinchwad, Patna, Vadodara, Ghaziabad, Ludhiana, Agra, Nashik, Faridabad, Meerut, Rajkot, Kalyan-Dombivli, Vasai-Virar, Varanasi, Srinagar, Aurangabad, Dhanbad, Amritsar, Navi Mumbai, Allahabad, Howrah, Ranchi, Gwalior, Jabalpur, Coimbatore, Vijayawada, Jodhpur, Madurai, Raipur, Chandigarh, Guntur, Guwahati, Solapur, Hubli–Dharwad, Mysore, Tiruchirappalli, Bareilly, Moradabad, Tiruppur, Gurgaon, Aligarh, Jalandhar, Bhubaneswar, Salem, Mira-Bhayandar, Warangal, Jalgaon, Kota, Bhiwandi, Saharanpur, Gorakhpur, Bikaner, Amravati, Noida, Jamshedpur, Bhilai, Cuttack, Firozabad, Kochi, Nellore, Bhavnagar, Dehradun, Durgapur, Asansol, Rourkela, Nanded, Kolhapur, Ajmer, Akola, Gulbarga, Jamnagar, Ujjain, Loni, Siliguri, Jhansi, Ulhasnagar, Jammu, Sangli-Miraj & Kupwad, Mangalore, Erode, Belgaum, Ambattur, Tirunelveli, Malegaon, Gaya, Thiruvananthapuram, Udaipur, Kakinada, Davanagere, Kozhikode, Maheshtala, Rajpur, Sonarpur, Rajahmundry, Bokaro, South Dumdum, Bellary, Patiala, Gopalpur, Agartala, Bhagalpur, Muzaffarnagar, Bhatpara, Panihati, Latur, Dhule, Tirupati, Rohtak, Sagar, Korba, Bhilwara, Berhampur, Muzaffarpur, Ahmednagar, Mathura, Kollam, Avadi, Kadapa, Kamarhati, Sambalpur, Bilaspur, Shahjahanpur, Satara, Bijapur, Kurnool, Rampur, Shimoga, Chandrapur, Junagadh, Thrissur, Alwar, Bardhaman, Kulti, Nizamabad, Parbhani, Tumkur, Khammam, Ozhukarai, Bihar Sharif, Panipat, Darbhanga, Bally, Aizawl, Dewas, Ichalkaranji, Karnal, Bathinda, Jalna, Eluru, Barasat, Kirari Suleman Nagar, Purnia, Satna, Mau, Sonipat, Farrukhabad, Durg, Imphal, Ratlam, Hapur, Arrah, Anantapur, Karimnagar, Etawah, Ambarnath, North Dumdum, Bharatpur, Begusarai, New Delhi, Gandhidham, Baranagar, Tiruvottiyur, Pondicherry, Sikar, Thoothukudi, Rewa, Mirzapur, Raichur, Pali, Ramagundam, Haridwar, Vijayanagaram, Tenali, Nagercoil, Sri Ganganagar, Karawal Nagar, Mango, Thanjavur, Bulandshahr, Uluberia, Katni, Sambhal, Singrauli, Nadiad, Secunderabad, Naihati, Yamunanagar, Bidhannagar, Pallavaram, Bidar, Munger, Panchkula, Burhanpur, Raurkela Industrial Township, Kharagpur, Dindigul, Gandhinagar, Hospet, Nangloi Jat, Malda, Ongole, Deoghar, Chapra, Haldia, Khandwa, Nandyal, Morena, Amroha, Anand, Bhind, Bhalswa Jahangir Pur, Madhyamgram, Bhiwani, Berhampore, Ambala, Morbi, Fatehpur, Raebareli, Mahaboobnagar, Chittoor, Bhusawal, Orai, Bahraich, Vellore, Mehsana, Raiganj, Sirsa, Danapur, Serampore, Sultan Pur Majra, Guna, Jaunpur, Panvel, Shivpuri, Surendranagar Dudhrej, Unnao, Chinsurah, Alappuzha, Kottayam, Machilipatnam, Shimla. Adoni, Udupi, Katihar, Proddatur, Saharsa, Hindupur, Sasaram, Hajipur, Bhimavaram, Kumbakonam, Dehri, Madanapalle, Siwan, Bettiah, Guntakal, Srikakulam, Motihari, Dharmavaram, Gudivada, Phagwara, Narasaraopet, Suryapet, Miryalaguda, Tadipatri, Karaikudi, Kishanganj, Jamalpur, Ballia, Kavali, Tadepalligudem, Amaravati, Buxar, Jehanabad, Aurangabad, Gangtok
Exporters of Inconel Alloy Coil, Strip, Foil
America: Antigua and Barbuda, Argentina, Aruba, Bahamas, Barbados, Belize, Bermuda, Bolivia, Brazil, Canada, Cayman Islands, Chile, Colombia, Costa Rica, Cuba, Dominica, Dominican Republic, Ecuador, El Salvador, Grenada, Guatemala, Guyana, Haiti, Honduras, Jamaica, Mexico, Nicaragua, Panama, Paraguay, Peru, Puerto Rico, Suriname, Trinidad and Tobago, United States, Uruguay, Venezuela
Europe – Albania, Andorra, Austria, Belarus, Belgium, Bosnia and Herzegovina, Bulgaria, Croatia, Cyprus, Czech Republic, Denmark, Estonia, Euro area, Faroe Islands, Finland, France, Germany, Greece, Hungary, Iceland, Ireland, Isle of Man, Italy, Kosovo, Latvia, Liechtenstein, Lithuania, Luxembourg, Macedonia, Malta, Moldova, Monaco, Montenegro, Netherlands, Norway, Poland, Portugal, Romania, Russia, Serbia, Slovakia, Slovenia, Spain, Sweden, Switzerland, Turkey, Ukraine, United Kingdom
Africa – Algeria, Angola, Benin, Botswana, Burkina Faso, Burundi, Cameroon, Cape Verde, Central African Republic, Chad, Comoros, Congo, Djibouti, Egypt, Equatorial Guinea, Eritrea, Ethiopia, Gabon, Gambia, Ghana, Guinea, Guinea Bissau, Ivory Coast, Kenya, Lesotho, Liberia, Libya, Madagascar, Malawi, Mali, Mauritania, Mauritius, Morocco, Mozambique, Namibia, Niger, Nigeria, Republic of the Congo, Rwanda, Sao Tome and Principe, Senegal, Seychelles, Sierra Leone, Somalia, South Africa, South Sudan, Sudan, Swaziland, Tanzania, Togo, Tunisia, Uganda, Zambia, Zimbabwe
Asia – Afghanistan, Armenia, Azerbaijan, Bahrain, Bangladesh, Bhutan, Brunei, Cambodia, China, East Timor, Georgia, Hong Kong, Indonesia, Iran, Iraq, Israel, Japan, Jordan, Kazakhstan, Kuwait, Kyrgyzstan, Laos, Lebanon, Macao, Malaysia, Maldives, Mongolia, Myanmar, Nepal, Oman, Palestine, Philippines, Qatar, Saudi Arabia, Singapore, South Korea, Sri Lanka, Syria, Taiwan, Tajikistan, Thailand, Turkmenistan, United Arab Emirates, Uzbekistan, Vietnam, Yemen
Australia – Australia, Fiji, Kiribati, New Caledonia, New Zealand, Papua New Guinea, Samoa, Solomon Islands, Tonga, Vanuatu