Metallica offers custom fittings service to customers on their demand that require something non-standard. This may be something simple like a reduction in the bore of the product to meet a higher working pressure, an increase of the thread lengths, the use of exotic materials or simply you have a fitting and you don't know where to get it from, we can reverse engineer the product and create it exactly as the sample.

We have had many requests throughout the years for some of the very bespoke and unusual requests for Non-Standard Fittings and Custom Fittings.

One of the biggest dealer of Non-Standard/Custom Fittings in India. We offer the most competitive prices for various

pipe fittings

.

Pipe Fittings are an important piping component that helps in changing the direction of the flow such as elbows, tees, changes the size of the pipe such as reducers, reducing tees,  distribute the water supply from the main pipe to other pipes of equal size or lower size, etc. connect different components such as couplings and stop the flows such as Caps.

Please contact us for any further question or inquiry regarding Non-Standard/Custom Fittings. We will promptly reply to you and offer you a reasonable price.

Stainless steel, alloy steel and carbon steel, etc are employed for fabricating this Non-Standard/Custom Fittings

.

We provide these pipe fittings at market leading rates.

We have had many requests throughout the years for some of the very bespoke and unusual demand for Non-Standard Fittings and Custom Fittings.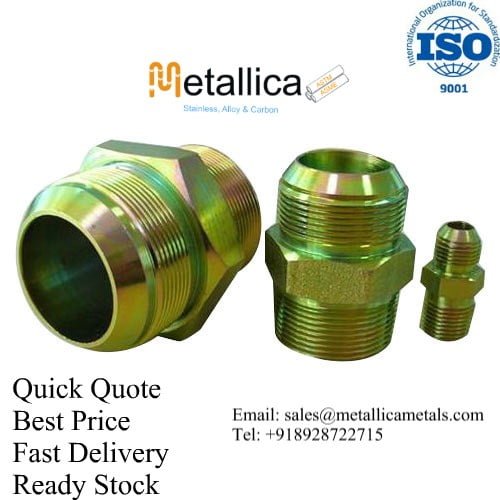 One of the Largest Non-Standard/Custom Fittings, Duplex Non-Standard/Custom Fittings and Super Duplex Non-Standard/Custom Fittings Manufacturers and Dealers in India!
If you are looking to purchase Non-Standard/Custom Fittings, please feel free to contact us on sales@metallicametals.com.
Product Specification
Type
304L Stub End
Standard
ASME B16.9, MSS SP-43, HG205099, HG20621,

GB/T12459-2005, GB/T13401, SH3408-96,etc.

Size
1/2″-48″(DN15-DN600)
Wall thickness
SCH5S-SCH40S
Type
Type A, Type B,Type C
Surface treatment
Lathe finish&Abrasive blasting
Stainless steel
304, 304L,304H, 316, 316L,309S,310S, 321,321H,347H,316Ti
Duplex steel
2205, etc
Super duplex steel
2507, etc
Non-Standard and Hard-to-Find Fittings:
Standard connections in unusual sizes
Standard connections in non-standard lengths
Standard connections with non-standard ID and/or OD
Metric, SAE, Socket or Butt Weld connections
Custom Fittings:
Pipe couplings
Half couplings, full couplings
flange
Manifolds with unusual connection combinations
Custom parts
Pipe unions
Olets
Pipe elbows
Pipe tees
Central air-conditioning
Diesel engine (ship) exhaust line
Long distance pipeline such as Gas, steam, water etc.
Thermal expansion in Steel mill
Pipelines
Turbines
Compressors
Blowers
Vacuum pumps
Heat exchangers
Hot water and fire protection system
Compressors inlet and outlet
Material Specification for Non-Standard/Custom Fittings
The list below shows the range of materials available for Non-Standard Fittings or Custom Fittings.
C1144 Stressproof
1018
12L14
4130
4140
4340
C464 Brass
CDA C510 Bronze
Aluminum 6061 T-6

17-4
13-8 MO
303
304
316L

Nitronic 50 and 60
Super Duplex 2507
Hastelloy 276 and C22
Monel 400 and K-500
Titanium
Inconel 625, 718 and 925
Other Features:
Chemical and Physical characteristic: durable, corrosion resistant and high-temperature resistant.
We also produce pipes with special specifications according to customers' requirements.
Non-Standard/Custom Fittings Available on Sale, by India's Largest Stockholder and Manufacturer. Our Stainless Steel Non-Standard/Custom Fittings – Duplex and Super Duplex, are available for sale.
Leading Non-Standard/Custom Fittings manufacturers and suppliers, Metallica offers best quality Non-Standard/Custom Fittings with excellent chemical & physical properties and long service life. In addition to being one of the biggest dealer of Non-Standard/Custom Fittings, we also stock stainless steel pipes, alloy steel pipes, seamless pipes and carbon steel seamless pipes manufactured by Jindal and ISMT, which is another large seamless pipe manufacturer in India.
Buy Non-Standard/Custom Fittings at Factory Prices!

Lowest Price Guaranteed

!

We Will Quote for Carbon Steel, Stainless Steel and Alloy Steel Fittings in 2 Hours with Mill Test Certificates

! We are looking to develop a big network of buyers across India, with a clear focus on increasing our sales volume and customer base.
Metallica is one of the largest manufacturers, distributor and supplier of

carbon steel Non-Standard/Custom Fittings

,

stainless steel Non-Standard/Custom Fittings

and

special alloy Non-Standard/Custom Fittings

.
Keeping in mind our objective to build up a big customer base in India and overseas, we are offering maximum discounts to our customers for  Non-Standard/Custom Fittings, forged pipe fittings, carbon steel seamless pipes, carbon steel welded pipes, LSAW pipes and spiral welded pipes.
Being one of the largest volume Non-Standard/Custom Fittings dealer, we can guarantee you the lowest prices. At Metallica Metals, we believe in selling in volume and increasing our customer base across the globe, enabling us to work on low margins.
Pipe fittings are used to connect pipes or tubes in two ways:

By threading: Threaded pipes screw together to connect or join. Generally metal pipes are threaded and they have threaded fittings.
By slip fit: Slip fit pipes use sleeves that slip into one another. The plastic pipes are either threaded or slip fit.